Rescue device Rg10-roll
This Rescue device is especially developed for work in tank and hopper wagons, streetcars, busses and airplanes. To this end the workplaces are covered with horizontal steel cables or with steel supports on which the Rescue device can be moved horizontally using a suitable carriage. This produces the greatest possible freedom of movement and safety for the user. (...) In the event of a fall, the user is lowe- red to the ground directly at a speed of 0.5 m/s and can return to work or leave the danger zone. The safety cable, made of 5mm strong, rust resistant steel wire is equipped on one side with quick-release hooks and retracted on the other side using a cable spool with guide grooves. At the cable's slightest upward movement, the rescue device RG10 is immediately engaged. Any backward slippage on the cable is avoided by precise spool retraction. The RG10- Roll Rescue device can be equipped, on request, with an additional module, thus fulfilling the ATEX guidelines for use in areas where there is a significant danger of explosion.
---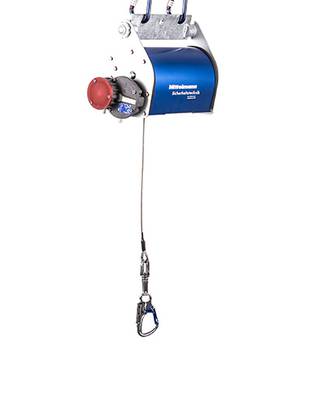 RG10-Roll Typ A, with suspension device for lifting carriage or Uni-8-Overhead
Ident-No. 118877
incl. lifting carriage - size 1 (IPE 120-160)
Ident-No. 118867
incl. lifting carriage - size 2 (IPE 180-200)
Ident-No. 118871
(further carriage sizes available on request)
incl. lifting carriage Uni-8-Overhead
Ident-No. 174580
RG10-Roll Typ B, with suspension by means of two carabiners RH60
Ident-No. 119987
RG10-Roll Typ C, with lifting carriage for steel rope without transit point
Ident-No. 116290
RG10-Roll Typ D, with carriage for steel rope with transit point
Ident-No. 115680
We also offer the complete assembly of the horizontal fall protection equipment especially to meet your needs. An on-site appointment can be arranged with our field staff. We will be glad to advise you.